Mutan White Peony
Mutan White Peony is a rare white tea from China is produced on a very limited scale. The new buds are plucked before they open, withered to allow natural moisture to evaporate and then dried. Curled up buds have a silvery appearance and give a very pale straw-colored liquor. Mellow, sweet, and subtle flavor. Low in caffeine.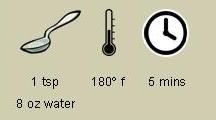 Depending upon tea leaf size, 1 oz of tea brews about 8-10 cups of tea.
Free Shipping on Orders of $50 or More!
Mutan White Peony is a subtle yet sweet white tea perfect on a beautiful spring morning.
Mutan White Peony is a white tea with floral accents. White teas are both the rarest and most delicate in the tea world. The leaves come entirely from the leaf buds covered by whitish hair. They pick the new buds before they open in early spring, then wither and dry at a low temperature.
This tea has a mellow, sweet and subtle flavor.  Pale straw colored liquor.
The unrolled leaves are slightly oxidized. The result is a mild flavor, very pale brew with a natural subtle flavor. There is also a slight sweetness and faint hint of grassy undertones.