Mountain Mao Feng Green
Mountain Mao Feng Green is a fine organic green tea from China with a wonderful taste and clean refreshing fragrance. Mountain Mao Feng Green is a good tea by itself or with a hint of honey.
Health Benefit: Green tea is packed with antioxidants. Studies show 4-10 cups of green tea per day provides the dosage of antioxidants to produce effective health benefits.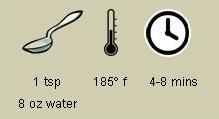 Depending upon tea leaf size, 1 oz of tea brews about 8-10 cups of tea.
Free Shipping on Orders of $50 or More!
Green teas are also from the camellia sinensis bush just like black tea; however the leaves are not fermented. The leaves are roasted, rolled and then fired. Roasting kills off the enzymes responsible for oxidation and the heat makes the leaves soft and flexible ready for various shapes.
In the news and all over we enjoy hearing all the enormous health benefits of green tea. We appreciate hearing our customers personal stories and witness to the fact their doctors are recommendations to daily consume several cups green tea. From healthy metabolism, healthy cells, clarity of mind to a slew of so many other reasons we love our green teas. Our Organic Mountain Mao Feng Green brews nicely even up to 7 or 8 minutes.  Personally, we think this is one of the perfect green teas.
Caffeine content of green tea is lower than black tea.