Peach Tea
Zippy and tangy a delicious blend of green and black tea along with hibiscus creating a perfect summertime iced tea blend.  Peach Tea is one of our favorite teas to brew for iced tea.  Along with the smooth blend of green and black the infusion includes peach bits, apple bits, red currants, orange peels and hibiscus blossoms.
Depending upon tea leaf size, 1 oz of tea brews about 8-10 cups of tea.
Free Shipping on Orders of $50 or More!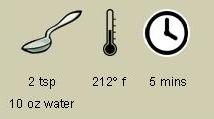 Peach Tea is zippy and tangy, a delicious blend of green & black tea with hibiscus creating a perfect iced tea. Peach, apple, currants, orange & hibiscus.
Green and black tea blends are unique combinations of flavors that many of our customers enjoy.  The black tea is the stronger note while the green tea lightens the cuppa just a bit.  Several of our customers buy a plain black and plain green and enjoying blending their own levels. Our Peach Tea from Germany is a delicious example of the smoothness of the two together.
The hibiscus blossoms dominate and stretch the peach flavor into a crisp tart iced tea blend.  Green teas are also from the camellia sinensis bush just like black tea; however the leaves are not fermented. The leaves roast, roll and then fire. Roasting kills off the enzymes responsible for oxidation and heat makes the leaves soft and flexible ready for various shapes.
In the news and all over we enjoy hearing all the enormous health benefits of green tea. We appreciate hearing our customers personal stories and witness to the fact their doctors recommend to daily consume several cups green tea. From healthy metabolism, healthy cells, clarity of mind to a slew of so many other reasons, we love our green teas.
Caffeine content of green tea is lower then black tea.