Categories:
I've loved you more than I've ever loved any woman and I've waited for you longer than I've waited for any woman. – Rhett Butler
As our grey chilly winter continues; we see Valentine's Day peeking her loving eyes around the corner here at the Teashop! We love to keep out the soft stringed lights and red bows romantically transformed with Vintage Hearts made of paper and tissue into a sweet Valentine's Retreat!
When it comes to tea, we find there are so many yummy and delightful ways to celebrate Valentine's Day!  How about a chocolate covered friendship celebrated with our $25 tea bundle called 7 Days of Chocolate?  Or a lavish tea party called Gone with the Wind Valentine's Tea or commiserate with us at our Farewell to Downton Abbey Tea Party?
But, that's not all…how about a little Rest and Relaxtion at the "B & B with the Tea"?  Time to enjoy a romantic and wintry Valentine's Package at The Terrace Avenue Inn.  This package is free and totally included when you book your Valentine's weekend at the Inn!
Romantic and wintry…the perfect combination for a weekend away on a cold February weekend in Historic Downtown Liberty.  Plan a stay-cation or a mini-vacation to visit our little oasis called The Terrace Avenue Inn.  Al and Brenda's "B & B and Tea" Valentine's  Package will be included at no extra charge when you book either one or two nights at the Inn on February 12 and 13.   Truly a cozy place to escape and a wonderful way to sip, savor and relax a weekend away with tea!
"B & B and Tea" Valentine's Package  includes:
Valentine's Treat Platter – A tasty combination of savory and sweet treats served in your room with a complimentary beverage.
Cream Tea – Also, upon your check-in from 4-6pm you will be served a traditional "Cream Tea". The Cream Tea includes scones, mock Devon-shire cream and a pot of our award winning Red Velvet Rooibos.  A caffeine-free chocolaty treat!
A souvenir tea mug to take home!  Satin-etched, crystal clear 13 oz mug with logos.
The B & B and Tea Valentine's Package is available for either room  The Terrace Suite or The Cottage Nook.  Call soon to book your special Valentine's Day Getaway and Package with Brenda at 816-792-0418!
Categories:
Matcha & Essential Oils Workshop 
January 30, 2016 OPEN HOUSE from 10:30am-1:30pm. Tickets are $5.  Order in advance or pay as you arrive. Pop in anytime!
Matcha – named one of the super foods in 2015
Brenda shares her thoughts and daily regimen with matcha and essential oils in a come-in-go "open house" workshop.  Matcha is full of health benefits, antioxidants and much more. Learn how to brew matcha, taste our Aiya matcha, and sample a few matcha recipes. Hand outs will be available outlining the matcha health benefits, facts and recipe ideas.  Plenty of time for Q & A, too!
 Essential Oils 101
My name is Dr. Katrina Waynar and I am a Chiropractic Kinesiologist in North Kansas City. I have been a wellness advocate for Doterra CPTG (Certified Pure Therapeutic Grade) essential oils for almost three years and love it! Since becoming a wellness advocate, I have noticed profound changes in my overall health. I recommend these oils to all my patients for a variety of different health benefits. They not only provide a resource for self care, but also offer an opportunity for learning and empowerment.
I would like to extend my support in your journey to maintain health and wellness. Life is demanding and keeping up with health goals and or starting new health goals can be difficult at times. If you find yourself struggling with new or old injuries, low energy, or any health concern that is standing in the way, do not compromise your progress or ability to live life to the fullest.  Attend our Essential Oils 101 Class and learn more!
Categories: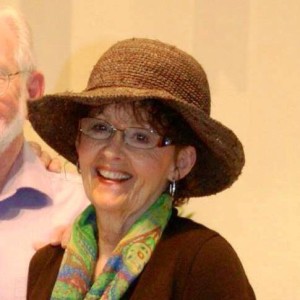 As the Matcha and Essential Oil Workshop is coming up just around the corner we thought it would be fun to hear how Brenda's health journey began.  Brenda is an avid user of green teas, matcha, and essential oils.  During the workshop as Brenda will be leading the Matcha Workshop we look forward to having Dr. Katie Waynar lead us through her Essential Oils 101.
Brenda, owner and innkeeper, began her health journey in the 1990's in response to how her body's immune system had begun to shut down due to food and environmental allergies.  Her body hit a wall of sickness as it struggled to absorb nutrition.  Aggravated and inflamed her body simply said "no more!"   Brenda is a strong advocate for eating well, staying active, and daily consuming premium tea.  As she states "I'm convinced the "tea for health" should be a main stay to create a healthy diet."  Brenda grew up on a farm where her early years enjoyed all whole foods produced on the family farm.  Since her youngest of memories, Brenda has been an outspoken advocate for a daily simple clean diet,  rich in whole foods.  In the last 20 years her advocacy now includes premium tea.
"I was born into a farm family with many different types of allergies. These allergies included food, pharmaceuticals, and the seasonal environment. My mother's health mantra was "everything in moderation".  Well, the sneaky part about food allergies is a person's food cravings can escalate on a particular food item they may actually have a food allergy for.
For me it begin very early with allergies to oranges, chocolate, milk and some environmental issues.  As a registered nurse and watching my siblings struggle with their own allergies I have always been attuned to how allergies effect me and my body.  As I grew older my own allergies increased in both symptoms and in the number of things I had become super sensitive to.  22 years ago I suffered a heart attack.  The heart attack was triggered by a severe allergic reaction to mold!  My poor immune system had hit a wall and so together with the help of my doctor I decided to change the path I was on.  Dietary changes along with the very healthy benefits of tea I began re-building and strengthening my immune system.  In just the last few years I have also added essential oils to supplement and to relieve my symptoms.
Because I had been a loyal coffee drinker, at first,  tea seemed so difficult to adapt to.  I began with very strong flavored black teas.  Drinking black tea and changing my diet also had a side benefit I was not expecting.  A burning of calories and a reduction of body fat.
As my palette was cleansed of coffee and only drinking black tea – I then began to try green teas.  Gradually, my favorites began to be lighter teas until today… my favorite tea is matcha.  This superb green tea, matcha, is receiving so much attention in the news these days.  From my personal experience I know matcha helps me resist colds and flues.  Only when I forget my daily cup of noon matcha do I feel like I am catching something.  I reach for my cup of matcha and it does seem to "knock it out" of my system.  The difference in me when I drink matcha is also an increase of energy.  After drinking matcha that energy boost seems to clear my head and helps me to focus on the rest of my day.  I drink it daily and simply see it as a necessity in my life.
I believe green tea – especially matcha is truly a prescription to good health.  Bruce Richardson is a well published tea expert and I agree with his personal tea advice.  I think he is spot on and generally follow it myself."
A Prescription for Good Health, Bruce Richardson
"After attending several health symposiums over the past decade, I can offer these suggestions about incorporating tea into your prescription for good health:
Drink four to six cups of both green and black teas every day, without sugar.  The health effects of tea dissipate after six hours so spread your tea consumption throughout the day.
Make tea a part of your hydration routine.  According to Tufts University Professor Jeffrey Blumenthal, "Contrary to popular belief, tea is not a diuretic.  It's time to put that myth behind us."
Make teatime part of your daily ritual.  The act of making tea quiets a busy mind as the kettle makes us wait for the water to boil, the tea in the pot makes us wait for the full steep, and the tea in the cup makes us wait for the liquid to cool. It's during these short periods of waiting that our hearts beat more slowly and our minds become calmer.  Tea's 2,000-year-old recipe could be exactly what the doctor ordered."
Categories: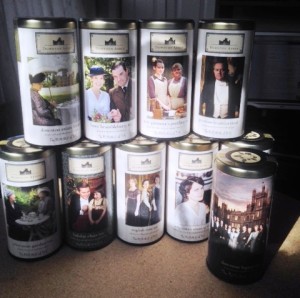 So hard to say goodbye to Downton Abbey!
Here at the teashop we took it upon ourselves that we needed a way to boost our spirits with our favorite show ending this winter.  So, Sarah has been working a little tea buying magic and has collected together 10 of the beautiful Downton Abbey Tea Cans.  Gorgeous and collectible.
How to Enter the DA Tea Giveway
Every time you spend $25 with us between now and March 7th your name is entered in our raffle.  Online and Teashop purchases qualify.  Qualifying orders and purchases include tea, tea foods, tea equipment or a ticket to the
Farewell to Downton Abbey Tea
!
The LUCKY winner will be announced on our
Facebook Page
on March 7 at 10am.
The 10 collectible teas are:
+ Downton Estate Blend