Categories:
Summer-Time, Tea-Time, Soul-Time…
This month we are looking forward to our outdoor, relaxing-on-the-veranda Shabby Chic Porch Party.  Summertime really is a special way of drinking tea.  New flavors burst out when tea is poured over ice.  Chilled tea is a forgiving tea – not quite as demanding.  Easier to brew and one we don't have to think about as those leaves unfold.  So summertime Tea Time really is more soul-time.  Slow down and brew up some iced tea to share.  Add some herbs.  Or yet…get creative with your cubes! Flavor combinations are endless.
Choose two flavors – make one into cubes and one into the drink.  As the ice melts the flavors will blend.  Be sure to buy your trays early and start freezing several batches of cubes.
When making the tea cubes brew the tea as normal and freeze in ice cube trays.  If you don't have a lot of time or don't want to make tons of frozen tea cubes you can double or triple the strength of the brewed tea.  Then pour into ice cube trays and freeze. (double or triple the amount of tea used – same amount of water) Then use one or two frozen tea cubes along with regular ice.
Frozen Tea Cube Flavor Combos:
Earl Grey Supreme cubes and Vanilla A La Creme black tea
Cream Tea cubes with Apricot black tea
Earl Grey La Creme cubes with Kenilworth Estate black tea
Blueberry Black Cubes with Strawberry Cream Green tea
For extra strong peach…Peach Tea Cubes with Peach Tea
Apricot Black Tea Cubes with Peach Apricot Honeybush
Categories: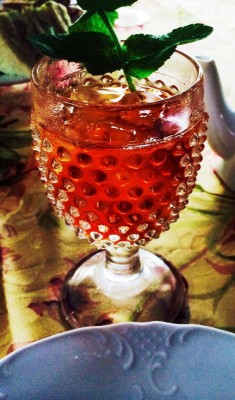 Welcome to Summer – Iced Tea Friends!
Here in our Anna Tea Shop tea world we often anticipate the seasons as different flavors rather than changing weather.  With the calendar firmly planted in June our highly trained taste buds already crave our yummy fruit teas and tisanes.  Welcome Iced Tea-Time!
A Tea Bar is one of those almost-too-easy ways of turning any gathering into memorable party.  Herb Iced Tea and Frozen Tea Cubes are simple yet super fun ways to jazz up your Tea Bar.  Mix and match tea flavors with your menu and don't be afraid to try just about any combination.  One reason so many people brew and enjoy iced tea is that it is easy and the minute details of the traditional perfect cup of tea simply fade away as that tea is generously poured over the ice cubes.
Build-your-own-Tea Bar:
A couple of weeks ago we hosted our Girl Graduated party.  We rented a tent, hung lights, and used our real vintage Shabby Chic tablecloths.  We kept the menu pretty simple yet we had so much fun with it!  With the help of the amazing world of Pinterest we created our own version of a Burger Bar, Popcorn Bar, Grandma's Dessert Bar, and of last but not least – our Tea Bar.  My tea bar consisted of two beautiful glass drink dispensers – one held chilled Strawberry Cream Green and the other chilled Peach Apricot Honeybush.  Mini chalkboard with twine hung from the lid (Hobby Lobby) with the tea names, a vintage style diner sugar holder (Dollar Tree). All set out on a red and white checkered table cloth.  A Tea Bar can be as simple or as extravagant as you want.  Just start with a few of your favorite flavors.  Shop our Best Selling Iced Tea Blends and let your wheels start working!
Categories: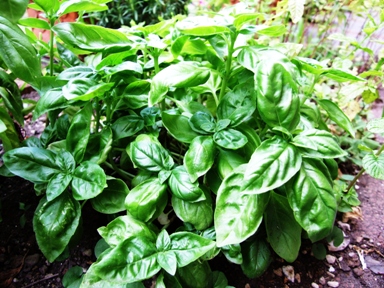 Herbs are loved almost as much as tea leaves around here at Anna Tea Shop.  Each one of our families has some sort of an herb garden.  When you attend our summer time tea parties the savory tea sandwiches are pretty much over the moon in flavor all because of that amazing fresh herb twist!
Brewing tea with herbs is not only delicious but oh so healthy.  Herbs naturally add flavor without any extra sugar or artificial flavors.
Mint and peppermint are yummy and most people enjoy them with iced tea.  Basil is a delicious herb although, we haven't met many herbs we don't instantly fall in love with.  The recipe below can be made stronger or weaker by changing the amounts of basil and tea leaves.  Don't stop with just basil.  I can't wait to try my fresh Lime Mint this summer with some freshly brewed Buckingham Breakfast!
Recipe for Herb Iced Tea
6 teaspoons of rich premium loose leaf tea – Kenilworth Estate, Buckingham Breakfast, or Nilgiri
A handful of rinsed fresh basil leaves
2 quarts of water
Scoop tea leaves and basil leaves into a large T-Sac.  Tie off with string.
Cold brew overnight in the refrigerator. Sun tea is good too – but the safer recommended method is to cold brew in the refrigerator.
Categories:
Hey Tea Friend…How are you doing?
Over here at the Anna Tea Shop you'll find us finishing up the crazy waves of May!  Is it possible that May was even busier than December? So never a better time to stop and think – or rethink the small ways we are taking care of ourselves!  To boost energy, metabolism, and clarity of mind reach for a cup of
Matcha 
every day.  Stop, slow and enjoy brewing up premium loose leaf tea.  If you are loosing steam it is probably time for a cup of tea!
Being a part of KC's very own Midwest Tea Fest is such a blessing to us.  Meeting up old tea friends, new tea friends and other fabulous tea vendors. We introduced our new
Tea Fix
and began shipping those out that same week.
(use coupon code:  first tea fix and save half off your first month!)
This week we were excited to be a part of the premier showing of Disney's new movie, Alice Through the Looking Glass, handing out nearly 300 tea samples at the Union Station.  And yes, celebrating with our Girl Graduated from Liberty High School.   Yep, this month has been a whirlwind – sort of like joining Alice in our own wonderland.  Always a good time to reach for a tall glass of tea!