Categories:
Now that we are almost two months into the new year those resolutions can seem so far away! Many (like me!) are lucky if we get through the first two weeks let alone the first month. It can be hard trying to break old habits let alone start new ones. The good thing is it's never too late to start over or augment what you are already doing. This year I had adopted the general (and perpetual goal) of "being healthier" but didn't get off to a very encouraging start.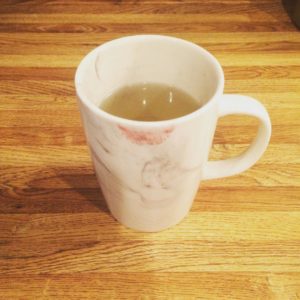 But I digress, back to the new year's resolution. One of the subparts of my "being healthier" goal was to drink more green tea. I have always liked the less fermented sibling of traditional black tea, I use it in as many ways as I can! I love using it in soups and putting matcha in smoothies but I wanted to make an effort to drink more of it. I'm not generally too picky when it comes to greens, I love how versatile they are and that they take so well to re-steeping. Other than teas where the main note is some sort of perfume or scent (jasmine, rose, bergamot, etc just as a personal taste preference) it's rare that I meet a green tea I don't like. Also, as many of you may know, within the last six months I have moved to Atlanta, GA which means I am much too far away from my favorite teashop for my liking.
Luckily I was able to visit a couple times over the holidays and stocked up on lots of yummy teas and let me tell you, our little teashop has been stepping up it's green game!
Historically my favorites have been the Cherry Green, Genmaicha, and, Lung Ching Dragonwell. I like a fruity green tea year round but also revel in the roasty-toasty nutty notes of Genmaicha come winter. But when I visited the shop during my trip home I was greeted by some shiny new labels in the green section. Gojiberry Green and Strawberry Green (decaf). Of course I didn't leave without stocking up on an embarrassing amount of my staples but I also snagged a few ounces of each of the newcomers to give them a try. Folks, I've managed to make room in my heart for these two gems! The Gojiberry Green is just what I wanted from a berry/fruity green both hot and cold. Hot it's a lighter take on some of my cold weather favorites, perfect for the transition to spring (let us hope that comes quickly) or just a nice break in the afternoon. However, its Strawberry decaf companion might be on its way to a place in my top three.
There's just something about the taste of green tea that I find so soothing and calming but I could never drink it before bed as the caffeine would keep me up (I'm pretty caffeine sensitive). But this little jewel has reconciled these opposing wants! For those who have had our Strawberry Cream Green, I find the taste pretty similar. It has an even green base with a delicate touch of strawberry to finish. It's perfect hot or cold!
I can't wait for spring to finally arrive (it might even already have arrived in Atlanta) so I can sit on my porch and sip some of this wonderful brew with some fresh mint or basil!
If you're someone who has hesitated when it comes to green tea or just haven't found one you like I encourage you to give these a try! For now they are available in-store at our shop in Liberty, MO but we've got lots of other wonderful greens on our website (like my other two favorites Cherry Green and Genmaicha). Just remember, even if we can't win the war of overhauling our lives to fulfill every new year's resolution, it's not too hard to incorporate the small things!
Happy Steeping,
Megan
Categories:
Tea for Healing
Recently we've been thinking a lot about the different reasons we love tea so much. Tea can do so many things for us but one of the most poignant is healing effect it can have on our bodies.
Currently, Brenda's brother-in-law is being treated for cancer. Guess what some of the doctor's orders were…drink four cups of tea a day! We weren't surprised to say the least. But for someone who doesn't drink tea regularly this seemed like a monumental undertaking.
However, with Brenda's help, he learned how to Brew the Perfect Cup of Tea. She also put together a gift set for him, part of which was some of our Ceremonial Matcha. The matcha is really the star of the show when it comes to healing the body and encouraging healthy cell generation! It contains many potent antioxidants, one of which is EGCg which may aid in the prevention of cancer. Furthermore, matcha also contains compounds called Catechins which researchers believe may not only slow or stop the progression of cancer cells, but possibly even kill them!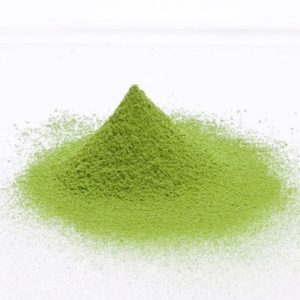 After learning the ins and outs of tea from the master herself he was ready to begin his tea journey! But she's not done with him yet! Next on her list for him are our Green Tea Bundle and our Relaxing Herbals Tea Sampler. The teas in both of these sets are sure to calm the stress and help the healing of the body!
Another longtime Tea Shop friend drank tea for healing during her cancer treatment too!
This isn't the first time we've seen tea help someone heal during their cancer treatment. One of our dear friends Joyce King Vazquez has told us her story of how tea helped her overcome Stage 4 Throat Cancer! Read her inspiring story here! Some of her favorites include Mountain Mao Feng Green (a Chinese green tea) and Golden Pu-Erh (a premium black Chinese tea that is semi-fermented).
As Brenda says:
"I began my tea journey because of health issues. It has led to better health and lots of pleasure for me."
Categories:
We here at the Tea Shop love a good DIY project, especially when it involves tea! A couple of months ago I decided that I wanted to have a more dedicated space for my near constant tea brewing. And with iced tea season quickly approaching I knew I wanted the space to keep both iced and hot tea at the ready.  
I began to list the items I wanted to include in my snazzy new set-up; electric kettle, mug tree, a place to store my tea, Perfect Cup of Tea (measuring spoon), my tea infuser, and signage. Here comes the tricky part, I was on a graduate student's budget, ugh. Luckily I had already received the kettle (the most expensive item on the list) as a birthday gift so there were just the rest of the items to hunt down.  
Over the course of a several weeks I slowly acquired all of the "necessary" components. I was able to find a fairly priced storage box at Ikea and combined that with a re-purposed gift box to store the tea itself.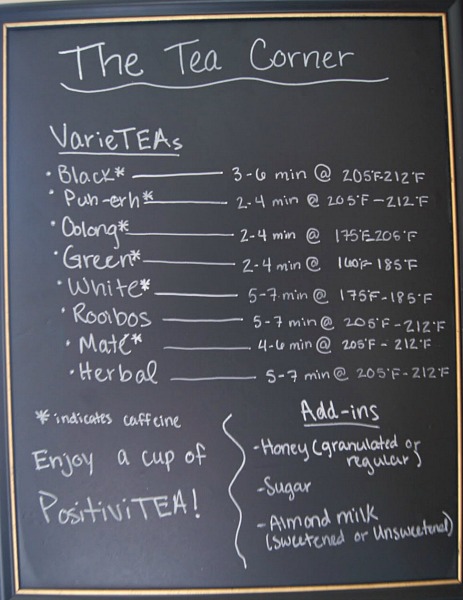 One day an email came through that boasted a sale on kitchen items at Target.  That lead to a great deal on a quirky copper mug tree! Big Lots kitchen aisle also played a starring role providing jars with locking lids that I put chalkboard labels on to use for storage on the counter top. Finally, came the signage. I found an old frame at Goodwill and covered the glass in the chalkboard contact paper. Then with a chalkboard marker I made an abbreviated tea menu (it would be nearly impossible to list EVERY one of my teas and it still be legible) that would serve as both a reminder to me and a list of options for any guests. It was also, of course, full of tea puns. I also included basic brewing instructions with general outlines for temperature and time for different variaTEAs (sorry, I couldn't resist)!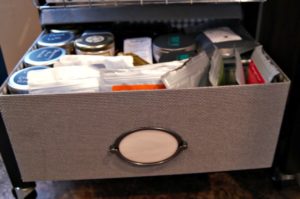 All in all it came together quite nicely and my lovely little tea station has proven its usefulness on the daily. I hope that the story of my tea station might inspire you to put together one of your own and that you can do it on a budget!
I believe that tea is just as much about the experience as the taste and creating a specially dedicated area has enhanced my tea-making experience!  And come by the Tea Shop on April 1 our Free Fruit-a-licious Iced Tea Tasting!
If you put together your own tea station, or already have one we would love to see it! You can share it to our Facebook or Instagram pages and be sure to tag us at @annamariesteas. Happy brewing!
Items needed:
Tea
Tea Storage
Signage/chalkboard
Electric Kettle
Mug Tree

Categories: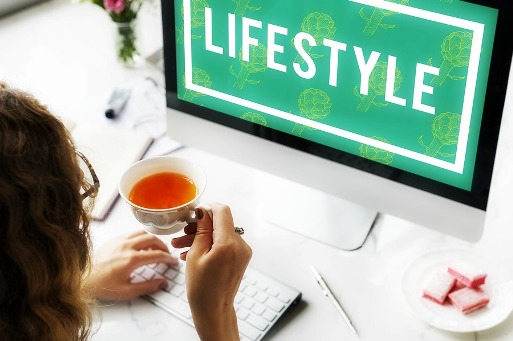 As we've mentioned many times before, we believe that cozy is a comforting experience. It can be different for everyone, from curling up with a good book to enjoying your favorite comfort food.  However, self-care as a lifestyle is also part of the comforting and cozy experience . Sometimes it can be very difficult to relax our minds or shift our routines.  Focusing on our own health and well being in the middle of caring about those we love.
For us, tea is something we include in our efforts to become better about self-care. It's something simple to incorporate into your routine whether you're at home, at work, or on the go!
It's hard to imagine how something as simple as a cup of tea could be considered an act of self-care. However, the experience that is generated around the act of brewing and drinking tea is quite unique. The tea experience can serve as a reminder to slow down and enjoy things and not get swept away by the day! Comforting + cozy teas are especially good for this. The calming experience combined with smooth tasty flavors creates an experience that allows you to take the feeling of comfort + cozy with you throughout your day. Some of our favorites for this type of experience are Spiced Coco-Mint, Winter Apple Herbal, Scarlett Romantic Blend, Rosebud Black, and more!
It just so happens that we will be sampling some of our favorite cozy and wintry flavors this Saturday during a FREE all day (10am-4pm) tasting event! Come by and taste the teas mentioned above as well as others and try before you buy!  10% off all wintry favorite teas at the event – and a great chance to shop Valentine's Day Gift Guide with a 10% discount!
Make a commitment to yourself to take better care of you and find a tea that will help you do it. Megan will be at the shop during the Wintry Tea Tasting of our Comfort + Cozy teas to answer any questions or help you select teas that are perfect for you this weekend. Hope to see you there!  
Categories:
Green tea broth makes an excellent addition to cooking as a way to flavor a broth as shown in the recipe below. A green tea broth has a slightly savory, nutty flavor and is sure to add that little something extra to your next soup, rice, or pasta dish! 
You can either replace the water entirely with freshly brewed tea or add a smaller portion for an added dash of flavor. Lung Ching or Gunpowder Green are two excellent green tea choices.  Marinades and salad dressings are also a great way to incorporate green tea into your meal by simply substituting all or a part of the liquid for green tea. 
Green Tea Chicken Soup Recipe
Total Time: 80 minutes
Serves: 2-4
INGREDIENTS:
2 quarts chicken broth
3 tablespoons of green tea
2 tablespoons coconut oil
1 red onion, chopped
4 garlic cloves, chopped finely
2 carrots chopped
1 cup chopped celery (about 2 sticks)
1 teaspoon fresh thyme, chopped
1 bay leaf
2 chicken breasts, chopped into medium sized pieces
2 teaspoons sea salt
2 teaspoons black pepper
DIRECTIONS:
Bring 2 quarts of broth to a boil, then turn off the heat and add tea bags. Allow to steep for 10 minutes, then remove tea bags.
Place chicken into pot and bring to a boil again, then turn down to a low simmer for 40 minutes to cook the chicken.
With about 20 minutes remaining, add the remaining ingredients.
Serve hot or store refrigerated in glass containers for 4-5 days.
Recipe adapted from https://draxe.com/recipe/green-tea-chicken-soup/
Categories:
Megan's Tea Muse
I hope you are all well after the holiday season and were able to cherish time with family and friends! One of our Teashop resolutions for 2017 is to feature a tea every month spreading the word about some hidden gems in our collection. That said, I'm pleased to announce that the featured Tea of the Month for January 2017 is our Lung Ching (Dragon Well) green tea!  Don't miss this month's Green Tea Chicken Soup Recipe!
This tea has a lovely golden liquor with a slightly vegetal but also warm and nutty taste. It's the perfect starter green tea for those of you looking to add some healthy habits to your routine in 2017. Brewing varies a little from the traditional black tea. For the best flavor, most green teas should be brewed between 170-185⁰F for 2-3 minutes to avoid bitterness.  Stop by ANY Saturday in January to sample Lung Ching Dragon Well.
Health Benefits:  Green tea is widely renowned for its various health benefits and is also called the tea of 1001 properties.
Green Tea can aid in many things including cardiovascular health, liver function, stress relief, and focus. These are in addition to all of the wonderful antioxidants that are found in tea to begin with! Lung Ching (which can be directly translated as Dragon Well) is especially good for clearing the mind and promoting focus. It is used by monks for this purpose specifically!
Cooking with green tea also makes an excellent way to flavor a broth.  A Green Tea Broth is sure to add a slightly savory, nutty flavor…that little something extra to your next soup, rice, or pasta dish! You can either replace the water entirely with freshly brewed tea or add a smaller portion for an added dash of flavor. Marinades and salad dressings are also a great way to incorporate green tea into your meal by simply substituting all or a part of the liquid for green tea. No matter how you choose to enjoy your Lung Ching, it is still perfect for a wonderfully comforting and cozy afternoon cuppa on a chilly day.
Are you new to green tea or are curious about what else is out there? Then you're in luck! Check out our Tea-Tasting Tea Party on January 21st. The morning session has sold out but there are still plenty of spots for your tasting pleasure at 2:30pm.  Don't miss our new Living Well Series in 2017.  Kicking off in January 28 with Living Well with Matcha & Green Tea.
We would love to see you at the Tea-Tasting Tea Party and share a variety of teas with you along with hand-paired treats! Or pop into the Teashop any Saturday of January to sample the Lung Ching Dragon Well.
Happy Sipping!
Megan