Categories: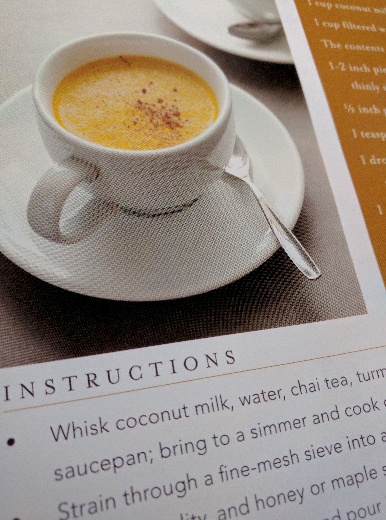 Looking to try a new healthy treat?  Golden Milk Chai is one of the sampling delights to be served at our November 26, 2016  celebration of Small Business Saturday!  Come and enjoy the shop filled with Christmas Gifts and Ideas and Hometown Holidays an annual event in Historic Downtown Liberty.  Samples of Christmas Teas and Favorites, Scone Bites, and this lovely recipe with Chai and essential oils.
Golden Milk Chai Recipe
1 cup coconut milk
1 cup filtered water
1-2 teaspoons of Masala Chai
1-2 inch piece fresh turmeric root, thinly sliced or 1 teaspoon dried
1/2 inch piec fresh ginger, thinly sliced
1 teaspoon coconut oil
1 drop Cinnamon Bark Vitality essential oil
1 drop Black Pepper Vitality essentioal oil
Raw honey or maple syrup to taste
Ground cinnamon
Whisk coconut milk, water, Masala Chai, turmeric, ginger, and coconut oil in a saucepan; bring to simmer and cook on low for 10 minutes.  Do not boil.
Strain through a fine mesh sieve into a blender and add Cinnamon Bark Vitality, Black Pepper Vitality, and honey or maple syrup to taste.
Blend on high until frothy and pour into mugs.  Serve with a dash of cinnamon on top.  Serves 2.
Recipe from YL News – October 2016
Categories:
Summer-Time, Tea-Time, Soul-Time…
This month we are looking forward to our outdoor, relaxing-on-the-veranda Shabby Chic Porch Party.  Summertime really is a special way of drinking tea.  New flavors burst out when tea is poured over ice.  Chilled tea is a forgiving tea – not quite as demanding.  Easier to brew and one we don't have to think about as those leaves unfold.  So summertime Tea Time really is more soul-time.  Slow down and brew up some iced tea to share.  Add some herbs.  Or yet…get creative with your cubes! Flavor combinations are endless.
Choose two flavors – make one into cubes and one into the drink.  As the ice melts the flavors will blend.  Be sure to buy your trays early and start freezing several batches of cubes.
When making the tea cubes brew the tea as normal and freeze in ice cube trays.  If you don't have a lot of time or don't want to make tons of frozen tea cubes you can double or triple the strength of the brewed tea.  Then pour into ice cube trays and freeze. (double or triple the amount of tea used – same amount of water) Then use one or two frozen tea cubes along with regular ice.
Frozen Tea Cube Flavor Combos:
Earl Grey Supreme cubes and Vanilla A La Creme black tea
Cream Tea cubes with Apricot black tea
Earl Grey La Creme cubes with Kenilworth Estate black tea
Blueberry Black Cubes with Strawberry Cream Green tea
For extra strong peach…Peach Tea Cubes with Peach Tea
Apricot Black Tea Cubes with Peach Apricot Honeybush
Categories: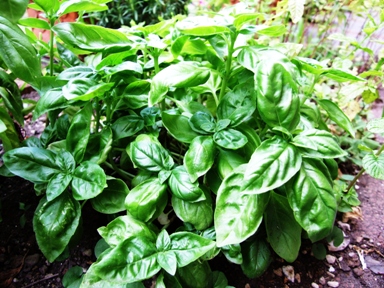 Herbs are loved almost as much as tea leaves around here at Anna Tea Shop.  Each one of our families has some sort of an herb garden.  When you attend our summer time tea parties the savory tea sandwiches are pretty much over the moon in flavor all because of that amazing fresh herb twist!
Brewing tea with herbs is not only delicious but oh so healthy.  Herbs naturally add flavor without any extra sugar or artificial flavors.
Mint and peppermint are yummy and most people enjoy them with iced tea.  Basil is a delicious herb although, we haven't met many herbs we don't instantly fall in love with.  The recipe below can be made stronger or weaker by changing the amounts of basil and tea leaves.  Don't stop with just basil.  I can't wait to try my fresh Lime Mint this summer with some freshly brewed Buckingham Breakfast!
Recipe for Herb Iced Tea
6 teaspoons of rich premium loose leaf tea – Kenilworth Estate, Buckingham Breakfast, or Nilgiri
A handful of rinsed fresh basil leaves
2 quarts of water
Scoop tea leaves and basil leaves into a large T-Sac.  Tie off with string.
Cold brew overnight in the refrigerator. Sun tea is good too – but the safer recommended method is to cold brew in the refrigerator.
Categories:
22/10/2015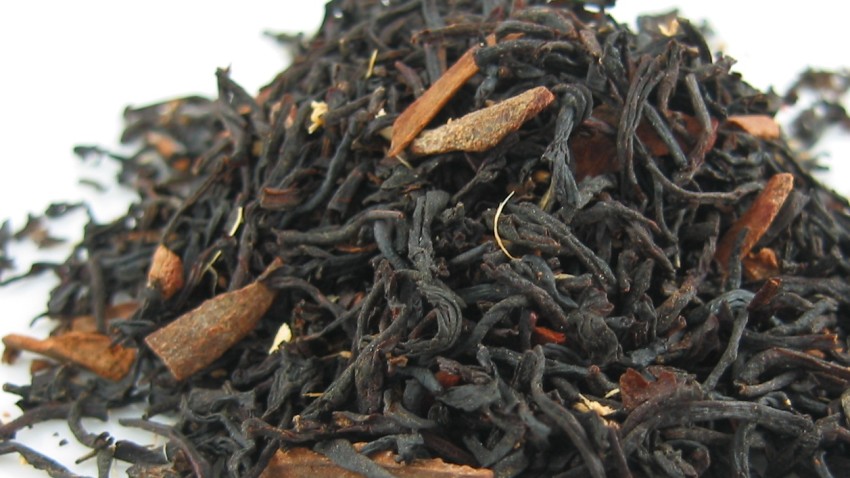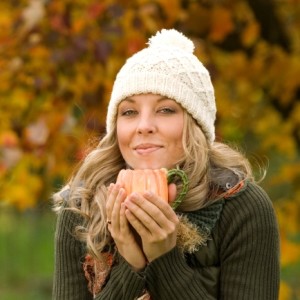 Pumpkin Pie Tea Latte
One of our family's Fall Favorites!  The perfect hot beverage for an autumn pick-me-up for just "one" or make a whole pot and share with friends.  We love this brewed strong with either Pumpkin Spice Tea or Masala Chai.  The key is brewing it strong so all those yummy spices are coming out. We use extra spoonfuls of tea rather than brewing for a longer time.  Brewing your tea leaves for longer then the recommended time could result in a bitter brew.
Make a pot of the tea or chai by following the brewing instructions for making the chai or tea.  Be sure to add those extra spoonfuls of tea.
Stir in sweetened condensed milk or "honey milk" to your taste.  Typically about a teaspoon or less in 1 mug or a little more in a whole pot.  But, add or subtract as you wish.  Drizzle the "honey milk", stir, pour, relax and enjoy!
Categories:
10/03/2015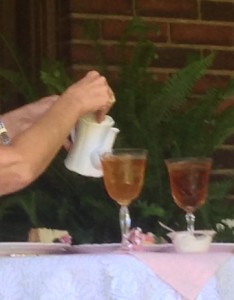 Enjoy this syrup as a yummy sweetener for iced or hot tea.
1 cup sugar
1 cup water
piece of fresh ginger cut into pieces
Bring to a light boil and reduce heat. Simmer till sugar dissolves. As the liquid cools it will thicken just a bit.
Categories:
10/03/2015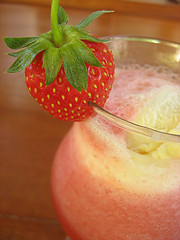 Pink Lemon Ice with Rooibos
2 cups sugar divided
1 3oz box of strawberry gelatin
1 12oz package frozen pink lemonade concentrate
1 cup fresh lemon juice
2 bottles (750 ml) sparkling cider chilled
6 tablespoons Cappuccino Cream Rooibos

Combine 3 cups water, 1 cup sugar and 1 3 oz box strawberry gelatin. Boil for 3 minutes and set aside.
Combine 1 – 12 oz frozen pink lemonade concentrate (thawed) with 1 cup fresh lemon juice. Add both mixtures together.
Brew 6 tablespoons Cappuccino Cream Rooibos in 6 1/2 cups just below boiling water. Brew for 6-7 minutes. Add 1 cup sugar and stir well. While straining out rooibos leaves pour this mixture into the other mixture.
Freeze for at least 4 hours chopping into a slush occasionally.
When ready to serve add frozen mixture to 2 bottles of sparkling cider.
We served this tea slushy at our Fairies in the Garden tea party. The hottest day of the summer – it kept all grown up fairies very cool!
Categories:
Mango Peach Oolong Granita
Delicious paired with a Matcha Cookie!
2 cups sugar
1 cup water
1/2 teaspoon lemon juice

Simmer sugar, water, and lemon juice for 3-5 minutes. Sugar should be dissolved, liquid clear and slightly thickened. Cool.
Oolong

1/2 cup Formosa Oolong Tea
1 1/2 cups water

Steep for 3 1/2 minutes. Strain and cool.
Fruit

1 lb frozen peaches, slightly thawed.
5 fresh mangoes

Puree approximately 1 lb frozen peaches, slightly thawed with 5 fresh mangoes. Puree until smooth.
Combine tea, sugar water, with additional 1 teaspoon lemon juice, 1 1/2 teaspoon grated fresh ginger, dash of sea salt.
Pour mixture into a shallow pan and freeze. Stir briefly every 30 minutes – pulling frozen bits away from edge till this becomes a granular mass. About 2 1/2-3 hours.