Categories:
Green Tea Chicken Soup Recipe
Total Time: 80 minutes
Serves: 2-4
INGREDIENTS:
2 quarts chicken broth

3 tablespoons of green tea

2 tablespoons coconut oil

1 red onion, chopped

4 garlic cloves, chopped finely

2 carrots chopped

1 cup chopped celery (about 2 sticks)

1 teaspoon fresh thyme, chopped

1 bay leaf

2 chicken breasts, chopped into medium sized pieces

2 teaspoons sea salt

2 teaspoons black pepper
DIRECTIONS:
Bring 2 quarts of broth to a boil, then turn off the heat and add tea bags. Allow to steep for 10 minutes, then remove tea bags.

Place chicken into pot and bring to a boil again, then turn down to a low simmer for 40 minutes to cook the chicken.

With about 20 minutes remaining, add the remaining ingredients.

Serve hot or store refrigerated in glass containers for 4-5 days.
Recipe adapted from https://draxe.com/recipe/green-tea-chicken-soup/
You can either replace the water entirely with freshly brewed tea or add a smaller portion for an added dash of flavor. Lung Ching or Gunpowder Green are two excellent green tea choices.  Marinades and salad dressings are also a great way to incorporate green tea into your meal by simply substituting all or a part of the liquid for green tea.
Categories: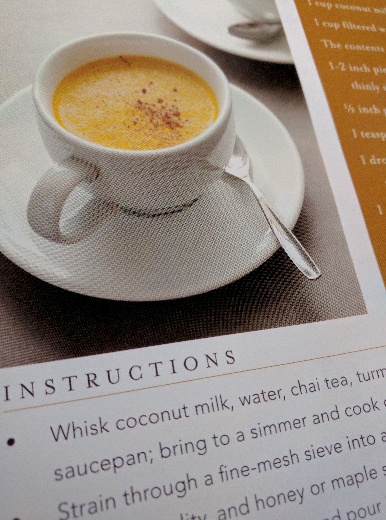 Looking to try a new healthy treat?  Golden Milk Chai is one of the sampling delights to be served at our November 26, 2016  celebration of Small Business Saturday!  Come and enjoy the shop filled with Christmas Gifts and Ideas and Hometown Holidays an annual event in Historic Downtown Liberty.  Samples of Christmas Teas and Favorites, Scone Bites, and this lovely recipe with Chai and essential oils.
Golden Milk Chai Recipe
1 cup coconut milk
1 cup filtered water
1-2 teaspoons of Masala Chai
1-2 inch piece fresh turmeric root, thinly sliced or 1 teaspoon dried
1/2 inch piec fresh ginger, thinly sliced
1 teaspoon coconut oil
1 drop Cinnamon Bark Vitality essential oil
1 drop Black Pepper Vitality essentioal oil
Raw honey or maple syrup to taste
Ground cinnamon
Whisk coconut milk, water, Masala Chai, turmeric, ginger, and coconut oil in a saucepan; bring to simmer and cook on low for 10 minutes.  Do not boil.
Strain through a fine mesh sieve into a blender and add Cinnamon Bark Vitality, Black Pepper Vitality, and honey or maple syrup to taste.
Blend on high until frothy and pour into mugs.  Serve with a dash of cinnamon on top.  Serves 2.
Recipe from YL News – October 2016
Categories: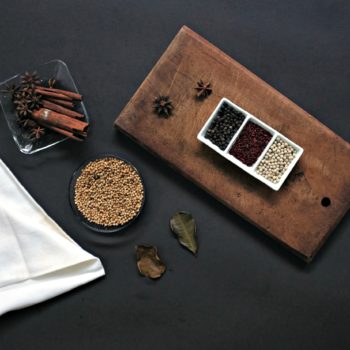 Cooking with Tea.  A superior way to add flavor without adding extra sodium or other unwanted ingredients.  Here is a multipurpose spice blend recipe from The Daily Tea.  Delicious on many different things but especially meats such as chicken and pork.  Mix up and start experimenting with your favorite flavors!
Tea-Spice Blend
2 teaspoons ground cinnamon
1/2 teaspoon freshly ground black pepper
1 teaspoon ground anise seed
2 teaspoons ground ginger
1 teaspoon ground clove
1 teaspoon paprika
1 teaspoon ground mustard seed
2 tablespoons finely ground Lapsang Souchong tea
Mix all ingredients well; store in a sealed jar or tin.  For a sweet and savory blend add 2 teaspoons of brown sugar.
Can a tea sandwich really taste this good and be this good for you? We love this recipe and give many thanks to Shelley and Bruce Richardson for sharing this yummy sandwich in their recipe book The Tea Table. If you click on the link and you can see it for sale on our website.
1 cup oil-packed sun dried tomatoes, drained
1 12 oz jar roasted red peppers, drained
1 cup packed fresh basil leaves
1/2 cup pine nuts, toasted 1 tablespoon balsamic vinegar
2 large garlic cloves
1 1/2 teaspoons grated lemon peel
1 loaf rye, whole wheat or black olive bread

Chop all ingredients (except bread) in a food processor to make a coarse paste. Season with salt and pepper. Spread on slice of hearty bread. Top with another slice. Trim all edges, then slice diagonally into four triangle sandwiches.
Categories:
Absolutely amazing recipe from Rachel Almstedt with www.PrayLiveEat.com. We enjoyed this at our Healthy Tea Party.
Raw Avocado Pudding
1 avocado
1/2 cup of coconut milk
3 Tablespoons of cocoa powder
2 Tablespoons of raw honey
1 teaspoon of vanilla
1-2 drops of mint extract

Blend all in a food processor unil smooth. Chill – serve cold.
White Bean with Pesto Soup
1/4 cup extra-virgin olive oil
2 cups chopped onion
2 cups chopped leek
1 cup chopped celery
2 Tablespoons chopped garlic
2 15 1/2 oz cans diced tomatoes
4 cans cannellini beans, drained and rinsed
chicken broth – add as much for desired consistency
salt and pepper to taste

In heavy pot over medium heat – heat up olive oil. Add first four ingredients and cook until vegetables are soft. About 6-8 minutes. Add tomatoes, beans, and desired amount of chicken broth. Salt and pepper to taste. Before serving add a dollop of pesto on top.
Pesto

2 oz fresh basil
3/4 cup fresh grated Parmesan cheese
1/2 cup fresh chopped parsley
8 cloves garlic
1 tomatoe
1 teaspoon kosher salt
1/2 teaspoon pepper
Olive Oil – added after blended

Blend pesto ingredients in food processor, adding 1/2 cup olive oil after blended. Pesto is drizzled on top of hot soup.
Green Pea Crostini
16 frozen green peas
5 green onions finely chopped
3 Tablespoons olive oil
1/2 teaspoon sea salt
3 Tablespoons fresh squeezed lemon juice
cayenne pepper to taste
1 French Baguette, cut into 1/2″ slices, buttered both sides and lightly toasted

Cook peas approximately 2 minutes, cool quickly in cold water and drain. Combine peas, onions, oil, lemon juice, salt and pepper to taste. Smash with a fork or use a food processor sparingly. Roughly chopped – do not make smooth. Serve on French baguette rounds with a thin slice of fresh Parmesan cheese on top.
Popcorn toppings are a favorite in our house. For something new and fresh try this green tea recipe. Green tea popcorn is a light snack and a new way to cook with tea.
Green Tea Popcorn
1/2 cup popcorn
canola or olive oil for popping
sea salt to taste
1 tsp finely crushed green tea

Pop popcorn in oil. While popcorn is still hot spritz with olive oil. Sprinkle crushed green tea and sea salt over popcorn. Enjoy!
Hummus and Veggie Tea Sandwich
hummus
cucumber thinly sliced
tomato thinly sliced
alfalfa sprouts
light or hearty bread

Spread hummus on your bread, layer with veggies, topping with alfalfa sprouts. For a traditional tea sandwich go ahead and cut off crusts, then cut sandwich into triangles. Enjoy!
Coconut-Berry Power Cookies
Our first Living Well Recipe! Beginning in 2015 we will enjoy a "'living well" menu item at each of our Monthly Themed Tea Parties. Recipes will be included!
3 large ripe bananas, well mashed
1/4 cup coconut oil, slightly warmed
1 teaspoon vanilla
2 cups rolled oats or gluten-free oats
2/3 cup almond meal
1/2 teaspoon sea salt
1 teaspoon baking powder
2/3 cup shredded coconut (preferably unsweetened)
1/2 cup chopped pecans
1/4 cup goji berries (or any mix in!)

In a large bowl, mash the banansas with a fork, then add in coconut oil and vanilla. Add the oats, almond meal, salt and baking powder, and stir until combined. Add the coconut, pecans, and goji berries – stir once again. Form the dough into 12 balls on a parchment lined baking sheet and flatten just a little bit. Bake at 350° for about 14-16 minutes.
Teashop family – Wren and Haden both eat these at volleyball tournaments, and Haden between swim events at a meet. Lots of energy and very filling. Enjoy with a cup of matcha for one power packed pick-me-up.