Categories:
TEA.  Fall Blooms. Jeweled Leaves. Crisp Air. Pumpkins. Apples. COZY laughter.
Hello Autumn.  Happy to Have You!
We simply love to drink good tasting premium tea and love sharing it with others.  Autumn centers and reminds us to be thankful – and we are very thankful for tea and others who enjoy the simplistic, healthy life of tea.
Tea Tasting Days are fun over here at the Teashop.  Yes, we do get excited to BLEND, BREW, and CHOOSE new Tea Blends!  Last week all of us found 7 more reasons we fell in love with Autumn all over again! For our fall line up we have 4 NEW teas (organics and private blends), 1 Fall Favorite (welcome back big pumpkin!) and 2 special events.  Why to love fall?  The list is endless but here are 7 great reasons just in case you need help jumping on the fall pumpkin wagon…
 Autumn Blooms Private Blend – This tea is a cozy cup of blessing!  It's simply all comfort in a cuppa.  Rich and tasteful with a touch of sweet ginger, cinnamon and caramel.   A black and rooibos blend.
Vanilla Pumpkin Private Blend – dreamy creamy vanilla meets Chinese Hunan black tea blended with a strong pumpkin spice.  Creates a good balance.
Spiced Coco-Mint Organic Herbal– this is our new cozy-up-on-the-couch favorite! An organic herbal blend of cinnamon, cocoa, and peppermint.  Not just an evening tea but the tea to create your own "cozy" where ever and whenever!
Chamomile Mango Organic Herbal – A unique tea centered on relaxation and holding close those fabulous warm days of summer vacation!  Subtly and slightly sweetened with organic stevia.  Mangoes and flowers – just a bit of tropical heaven in an herbal brew.
Pumpkin Spice – welcome home our Favorite Fall Friend! The perfect pumpkin tea that is strong enough to handle becoming the best pumpkin around.  Brew strong for your own latte.  Chai lovers love this one.  Having a Halloween Party? Yes, this is the ONE TEA that makes the sinfully delish and super easy Pumpkin Spice Latte.
10% Coupon off online orders through the month of October!  Coupon code 10offnow.
October Tea Sampling Saturdays –   Stop by the teashop any Saturday for a cup of one of our new autumn teas.

Categories: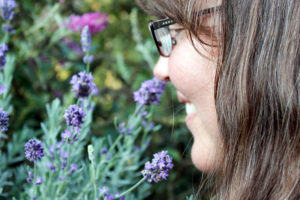 Welcome to Lavender Week at Anna Marie's Teas! We like to call this our own little festival of herbal R-E-L-A-X-A-T-I-O-N.  Tis the season when our clay pots are spilling over with rosemary, basil, thyme and LAVENDER.   This Saturday, Sept 10, Purple Shades of Autumn Tea Party will once again be our utmost relaxing tea party.  Diffused essential lavender oil, teacups filled with lavender tea, vintage recipes with lavender will be enjoyed along with our friend Karla's Lavender Jelly!  Karla is a suburban lavender farmer and has been cultivating a bountiful lavender garden for years.
How I became a lavender farmer

"Growing up on a farm in Iowa, we always grew a large garden and a variety of fruit trees and berries.  One of my 'chores' was picking strawberries and raspberries.  I  was in 4-H, so every year I would exhibit some type of canned item to our Mills County fair.  Then one of my jars of cherry jam won a blue ribbon at the Iowa State Fair!  It was at the Iowa State Fair where I was introduced to the herb Lavender.  An English lady who had a booth in one of the agricultural buildings (the same one where the butter cow was exhibited) would hand out samples of dried English lavender. This lavender sample was one of my favorite things about the fair and I tried to save it as long as I possibly could! 
Lavender has always been a part of my garden.  A valued herb that can be tricky to get established in a perennial garden.  Start by choosing a lavender variety that will grow in our zone of the country.  Through the years, I have learned lavender roots don't like to be wet especially during the winter season. 
My lavender clumps grow in an elevated flower bed on the south side of my house bordered with rocks.  The rock border provides plenty of drainage.  I have enjoyed drying lavender and making lavender jelly!  My jelly is made with organically grown lavender, pure cane sugar, filtered water and pectin. 
The more open the flowers the prettier the jelly.   Lavender has calming effects, so it is not surprising it goes well with tea.  I have also tried stirring a teaspoonful of my lavender jelly in a cup of hot black tea.

Lavender jelly is so good spooned over the top of one of Brenda's scones!  I also love tea blended with lavender, like Anna Marie's Lavender Lemon Herbal (my favorite iced) or Provence Rooibos (delicious iced or hot with a little honey).   I hope everyone takes a few minutes to relax and enjoy lavender!" ~Karla King