Categories: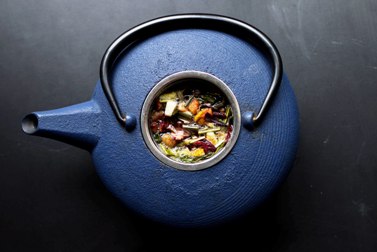 August.  Last month of summer…do you ever get that feeling inside like a restlessness?  A little feeling that says…"Hey there… it's time to try something new!"
Maybe it's that old back-to-school feeling even when you are way past the back-to-school years.  Well in our little tea world we get that same feeling.
In this last month of summer what feels fresh and AND REFRESHING?
We often reach for something simple like sweet dried apples and tart hibiscus blossoms brewed together and chilled in a tall glass.  Or an herb like mint – only this time the mint is poured over freezing ice…
Strawberry Kiwi Herbal  Chilled it is a crisp tart brew.  Simply Peppermint Herbal is a big family favorite.  Yes, enjoyed year round but wow…!  Chilled in the summer this light colored brew is absolutely the best digestive tea after any meal.  In this heat sometimes any meal feels heavy.  FYI – No sweetener needed.  🙂
Yes.  August is the perfect month to discover your favorite chilled tisane (pronounced tee-zahn).  Tisane, French for herbal infusion, is typically caffeine free.  Herbal infusions are blended with a wide variety of flowers, berries, roots, seeds, peels and leaves.  Tisanes will not include leaves from the Camilla sinsensis plant or tea plant.  Popular herbal infusions often include healthy herbs and flowers such as chamomile, ginseng, rose petals, hibiscus, peppermint, Valerian, lavender and jasmine.
We look forward to serving Provence Rooibos at our Tea in Paris tea this month.  A yummy herbal rooibos infusion which proudly boasts blueberries, red and black currants, rosehips, rose petals and delightful note of culinary lavender!  Tickets are still available for the 2:30pm Tea in Paris August Tea Party!
Embrace August for what she offers most…A refreshing infusion of both bountiful herb harvests, fresh beginnings, and refreshingly new flavor favorites!  Enjoy tisanes in your tall chilled glasses and short tea mugs.  Healthy, good and quenched.
Categories: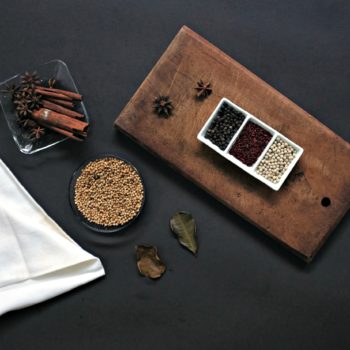 Cooking with Tea.  A superior way to add flavor without adding extra sodium or other unwanted ingredients.  Here is a multipurpose spice blend recipe from The Daily Tea.  Delicious on many different things but especially meats such as chicken and pork.  Mix up and start experimenting with your favorite flavors!
Tea-Spice Blend
2 teaspoons ground cinnamon
1/2 teaspoon freshly ground black pepper
1 teaspoon ground anise seed
2 teaspoons ground ginger
1 teaspoon ground clove
1 teaspoon paprika
1 teaspoon ground mustard seed
2 tablespoons finely ground Lapsang Souchong tea
Mix all ingredients well; store in a sealed jar or tin.  For a sweet and savory blend add 2 teaspoons of brown sugar.