Categories: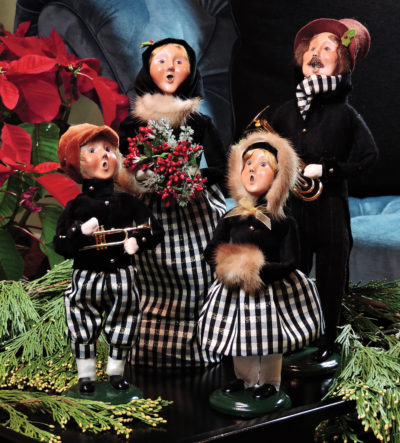 It's a good day here at the teashop when the Byers' Choice Christmas Carolers arrive!  Byers' Choice is such a special American-made company.  The carolers and the story behind the carolers mean a lot in a world of mass production.  So it's a good day when we are thankful to add another hand made artisan crafted piece to our little Teashop.
We offer 20% off our carolers whether you standing in the store or shopping for them online.  Free Shipping with online Byers' Choice Caroler orders, too!
As we are crafting a new space in the Teashop for our Artisan Tea Cans and creating an ornament room that is being carefully decorated with artisan glass ornaments – retired from Italy, Poland, Germany and the Czech Republic. Well, it's beginning to look a lot like Christmas around here!
Shop early with the carolers.  We only have one caroler per design.  Auntie Esther, The Black and Gold Family, and the 2016 Ugly Sweater Family!  There are so many beautiful ones!
Categories:
Rosemary-Roasted Potatoes with Dill Creme Fraiche and Smoked Salmon
6 – 1 1/2-2″ round red potatoes halved
2 tablespoons chopped fresh rosemary
2 1/2 tablespoons vegetable oil
1 teaspoon salt
1 teaspoon ground black pepper
1/2 cup creme fraiche
2 1/2 tablespoons chopped fresh dill
12 small, thin slices smoked salmon
Garnish: Fresh Dill Sprigs

1. Preheat oven to 425° In a large bowl, combine all ingredients except for creme fraiche and dill. Place potatoes side down on ungreased baking sheet. Roast until golden brown and crisp, about 30-35 minutes. Flip halfway through baking time. Cool for 15 minutes.
2. In a small bowl, combine creme fraiche and dill. Dollop onto flat side of cooled potatoes, then top each with a slice of smoked salmon. Cut off tip of potatoes if not sitting flat.
3. Garnish with fresh dill or sprinkle with dried dill.