Categories:
Over the last few months we have been thinking a lot about all of the wonderful interpersonal aspects of tea. From tea journeys to Tea Joy, there is so much more to a lovely cuppa than just leaves and water. Relationships and experiences that come to us through tea is one of our favorite things about being in this business. One of our most special relationships is with the Kansas City Chapter of the English Speaking Union (or ESU for short)!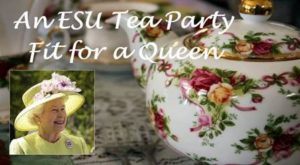 Every year we are privileged to host the Kansas City Chapter of the English Speaking Union for an annual British Tea Party. They are always a wonderfully English tea experience, complete with a toast to Queen Elizabeth II! As always, this regal event will be complete with Brenda's Signature Scones and endless tea.
There's lots to celebrate this year in the monarchy including Queen Elizabeth II's 91st birthday and the Queen and Prince Phillip's 70th wedding anniversary.
Don't wor
ry, the fun is open to everyone! Just like all of our monthly tea parties,
anyone
can join us in the 1913 house on Liberty Drive for an ESU Tea Party Fit for a Queen. 
This year we are also hosting a second exciting event in conjunction with this wonderful group.
In November, we are honored to be hosting Lord Alan Watson!
Lord Watson will be speaking about his newly published book Churchill's Legacy: Two Speeches to Save the World.
Just like our other ESU tea parties this is not limited to members of the ESU. Don't miss this once in a lifetime opportunity to take tea with Lord Watson! We can hardly wait!
Categories:
We're very lucky to feature guest writer Sandy Lane! Sandy is a longtime tea friend as well as a wonderful human being. Please enjoy her piece on the history of tea parties below!
If you have had the pleasure of attending a tea party at Anna Marie's Teas in Liberty, Missouri, you may be wondering how tea parties actually got started.  It is believed that sometime between the late 1830's and early 1840's, taking tea in the afternoon, along with assorted edible treats, became a new English social event which provided some nourishment during the long hours between lunch at n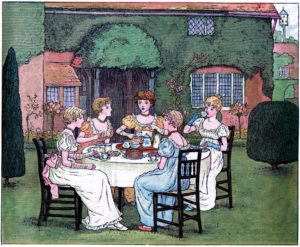 oon and the evening meal.  Legend has it that Anna Maria, the 7th Duchess of Bedford, experienced afternoon "sinking feelings" which led her to seek relief from her hunger.  She requested her footman to bring to her private room a tray of "tea things" (probably something similar to the Buckingham Breakfast or Kenilworth Estate blends sold by Anna Marie's) and something to eat, possibly bread and butter and cake.  She so enjoyed this refreshing afternoon indulgence that she began inviting her friends to share it with her.  Over time, afternoon tea became an enjoyable and well-established event in British countryside villages as well as in the court of Queen Victoria, an enthusiastic tea drinker.
As the years passed, tea party rituals evolved and included such things as tea times and invitations, tea selections, standard menus, equipage (or, "tea things" as Jane Austen referred to them), china, attire, hats, and etiquette.  The format, gentility, and popularity of tea parties spread to other countries and cultures, and today, tea parties remain a most pleasant pastime for tea lovers of all varieties.
When you attend a tea part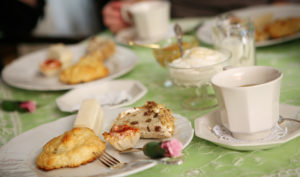 y at Anna Marie's, you will notice tea tables beautifully set with tablecloths and napkins, china, silverware, decorations, clotted cream and jam.  The servers deliver to each table a three-tiered cake stand containing three courses of traditional tea party treats: first, savories, which are usually tiny tea sandwiches; then, scones; finally, sweets, which are an assortment of pastries.
Throughout the tea party, the servers will visit each table to keep tea cups filled from steaming teapots of nicely steeped loose-leaf tea.  Brenda Hedrick, owner of Anna Marie's Teas, strives to create a welcoming, friendly, and satisfying experience for tea party attendees.
If you're in search of an opportunity to be greeted by some lovely people, to have a relaxed visit with friends or family, to be served delicious tea and tea treats, to spend some time in a grand and gorgeous 1913 historic home . . . come to tea at Anna's!
Two wonderful books were used in preparing this blog entry:
Tea & Etiquette, by D. Johnson & B. Richardson; and
A Social History of Tea, by J. Pettigrew & B. Richardson
Categories:
The historic home is beautiful, elegant and a very intimate private event space to celebrate your people, milestones, and unique celebrations.
Al and Brenda's historic home, which we fondly refer to as 'this old house' has sheltered many people through all her years.  Just this past March a private Remembrance Event was hosted by a family who recently lost their mother.  A couple of years ago we hosted several cultural tea parties centered around learning about the home. We welcomed our guest speaker Juarenne Hester, a native of Historic Liberty, MO who provided intriguing history about the home.  The home was built in 1913 by a small family for $6,000!
104 years later, 'this old house' is still offering her beautiful space to many families and friends who are celebrating those timeless moments.
Graduations, Baby Showers, Bridal Showers, and Weddings.
The Remembrance Event last month was a very special event for our family and 'this old house'.  The family of Virginia Swieterman said good bye to their 89 year old mother in March of 2016.  In March of 2017 the family hosted a private event as they remembered their mother in so many wonderful ways and happy times.  The family called together one another and included close friends at a private tea called a Remembrance Tea Party.  Virginia was a lady known for bubbling joy, laughter, and loving others!  She also loved tea parties and attended our Monthly Tea Parties for about 12 years.  Over the years her daughter Carol brought Virginia along with many family and friends to share everyday life together. (and lots of yummy cups of tea!)  Oh, how we cherished hearing Virginia's laughter over that cup of tea!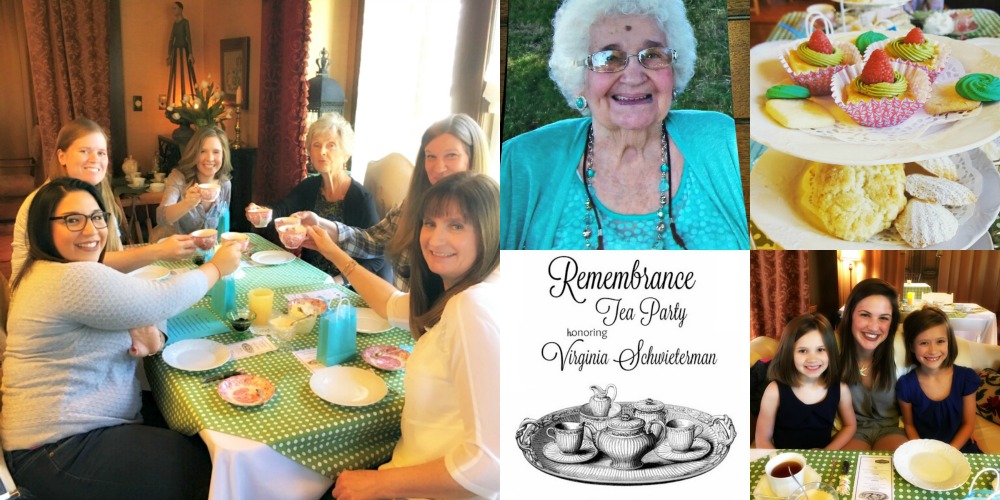 Give Brenda a call at 816-863-5941 to discuss available dates and pricing for the Private Event Space or a Private Tea Party.
Categories:
Feeling loved. And loving others.
After 22 years of being in the service world with 15 of those years immersed in the professional tea party business we have become pretty adept at reading people – especially when people feel genuinely appreciated and cherished.
Our Valentine's Day Gift Guide is simple yet hand selected.  Crafted from our favorite times of people watching and witnessing when a friend really feels treasured.  The nature of tea is generous.  Friends listen and care for one another over tea.  It's good for our bodies and a gift from nature.
So, take a moment to shop around the tea products and experiences in our Valentine's Day Gift Guide. Something here for everyone. Valentine's Day is about your loved ones.  Your family – grown from those closest to your heart.  Often times from different social and family circles.  We believe Valentine's Day is a pretty important day.  The perfect opportunity to show those special people you have been blessed with just how much you treasure and cherish them!
NEW! Valentine's Tea Bundle – $9.50, a trio of specially selected premium dark teas.  The best way to lavish your loved ones and favorite friends.  Dessert Teas just have a way of making one feel happy, extravagant, and no guilt!
7 Days of Chocolate Tea Bundle – $25, premium rich dark teas paired with warm, creamy chocolate.  More than a sampler but a great way to enjoy a little cozy every day where ever you are.  According to EAT THIS, NOT THAT blog – splurging on a dessert tea instead of a dessert is a very good choice! And with 50+ cups of tea in this one bundle it's a cozy+comfort gift that lasts all winter (or maybe all of February for your serious tea drinker!).
Treasure Thy Friend Tea Party – February 10 at 6:30pm or February 11 at 10:30am.  $26, Tucked in the middle of winter…our Valentine's Tea is a blessing for circles of friends, family and loved ones to gather together and enjoy a little chocolate therapy. Warm and cozy – the tea cups will be full of tea and our hearts filled with good times.
*You're My Cup of Tea!* – $12 Megan is at again with a super cute teashop gift!  Milk-white teacup & an ounce of chocolate tea all wrapped up with crystal cello & Valentine's ribbon! Limited quantity only available in the teashop.
Night at the Inn – A stay-cation at the Teashop!  Enjoy the tea bar, dessert teas, and just a few blocks from delicious restaurants and shops in Historic Downtown Liberty.  Of course you must pop in at Hammerhand Coffee and order a cup of Anna Marie's Genmaicha for an afternoon pick me up, or an Orange Spice Rooibos – Orange Metro, or a Masala Chai Latte made with Anna Marie's Masala Chai.
Categories: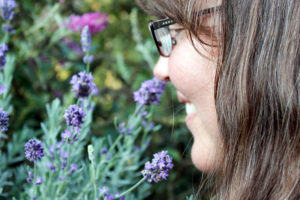 Welcome to Lavender Week at Anna Marie's Teas! We like to call this our own little festival of herbal R-E-L-A-X-A-T-I-O-N.  Tis the season when our clay pots are spilling over with rosemary, basil, thyme and LAVENDER.   This Saturday, Sept 10, Purple Shades of Autumn Tea Party will once again be our utmost relaxing tea party.  Diffused essential lavender oil, teacups filled with lavender tea, vintage recipes with lavender will be enjoyed along with our friend Karla's Lavender Jelly!  Karla is a suburban lavender farmer and has been cultivating a bountiful lavender garden for years.
How I became a lavender farmer

"Growing up on a farm in Iowa, we always grew a large garden and a variety of fruit trees and berries.  One of my 'chores' was picking strawberries and raspberries.  I  was in 4-H, so every year I would exhibit some type of canned item to our Mills County fair.  Then one of my jars of cherry jam won a blue ribbon at the Iowa State Fair!  It was at the Iowa State Fair where I was introduced to the herb Lavender.  An English lady who had a booth in one of the agricultural buildings (the same one where the butter cow was exhibited) would hand out samples of dried English lavender. This lavender sample was one of my favorite things about the fair and I tried to save it as long as I possibly could! 
Lavender has always been a part of my garden.  A valued herb that can be tricky to get established in a perennial garden.  Start by choosing a lavender variety that will grow in our zone of the country.  Through the years, I have learned lavender roots don't like to be wet especially during the winter season. 
My lavender clumps grow in an elevated flower bed on the south side of my house bordered with rocks.  The rock border provides plenty of drainage.  I have enjoyed drying lavender and making lavender jelly!  My jelly is made with organically grown lavender, pure cane sugar, filtered water and pectin. 
The more open the flowers the prettier the jelly.   Lavender has calming effects, so it is not surprising it goes well with tea.  I have also tried stirring a teaspoonful of my lavender jelly in a cup of hot black tea.

Lavender jelly is so good spooned over the top of one of Brenda's scones!  I also love tea blended with lavender, like Anna Marie's Lavender Lemon Herbal (my favorite iced) or Provence Rooibos (delicious iced or hot with a little honey).   I hope everyone takes a few minutes to relax and enjoy lavender!" ~Karla King