Categories:
That's right folks, we finally found our forever home!
Join us for our GRANDEST Opening Saturday, July 15th from 10am-6pm at 9 W. Franklin just off the square in downtown Liberty! We are so very excited for our new space and hope that you will celebrate with us. The various members of our Teashop family have been hard at work preparing our new home and we can't wait for you to see it. Not to worry, we aren't moving very far, only next door! You can still drive or walk down Franklin Street and spot our signature gold teapot in the window! Of course we will still be hosting our monthly themed tea parties at 343 W. Liberty Dr in Liberty, MO, that will not change!
As it happens we will also be hosting our July Tea Tasting event on the same day. Stop by to enjoy some of our caffeine free favorites and check out our new Caffeine Free Sampler!
Speaking of Monthly Tea Tastings we hope you've been enjoying them! June's theme was Backyard BBQ Crowd Pleasers and we featured some of our favorite iced teas including our brand new Iced Tea Sampler! We'd love to hear what you would like to see over the next coming months. There's lots going on at the Teashop these days! This summer may end up one of busiest we have had yet! As a result there are lots of new and wonderful things we'd love you to both taste and see! There may even be a new private blend introduction at our Grandest Opening as well!
We will also be hosting a special Christmas in July Event! This fun season swap will take place July 27-29 with a special Christmas Tea Tasting on July 29th!
Stay tuned to our Facebook and Instagram pages for more information on our upcoming schedule and exciting events!
Categories:
We're very lucky to feature guest writer Sandy Lane! Sandy is a longtime tea friend as well as a wonderful human being. Please enjoy her piece on the history of tea parties below!
If you have had the pleasure of attending a tea party at Anna Marie's Teas in Liberty, Missouri, you may be wondering how tea parties actually got started.  It is believed that sometime between the late 1830's and early 1840's, taking tea in the afternoon, along with assorted edible treats, became a new English social event which provided some nourishment during the long hours between lunch at n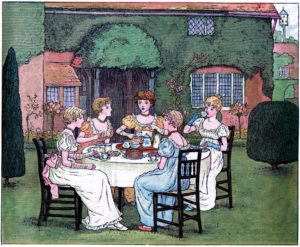 oon and the evening meal.  Legend has it that Anna Maria, the 7th Duchess of Bedford, experienced afternoon "sinking feelings" which led her to seek relief from her hunger.  She requested her footman to bring to her private room a tray of "tea things" (probably something similar to the Buckingham Breakfast or Kenilworth Estate blends sold by Anna Marie's) and something to eat, possibly bread and butter and cake.  She so enjoyed this refreshing afternoon indulgence that she began inviting her friends to share it with her.  Over time, afternoon tea became an enjoyable and well-established event in British countryside villages as well as in the court of Queen Victoria, an enthusiastic tea drinker.
As the years passed, tea party rituals evolved and included such things as tea times and invitations, tea selections, standard menus, equipage (or, "tea things" as Jane Austen referred to them), china, attire, hats, and etiquette.  The format, gentility, and popularity of tea parties spread to other countries and cultures, and today, tea parties remain a most pleasant pastime for tea lovers of all varieties.
When you attend a tea part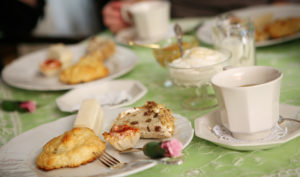 y at Anna Marie's, you will notice tea tables beautifully set with tablecloths and napkins, china, silverware, decorations, clotted cream and jam.  The servers deliver to each table a three-tiered cake stand containing three courses of traditional tea party treats: first, savories, which are usually tiny tea sandwiches; then, scones; finally, sweets, which are an assortment of pastries.
Throughout the tea party, the servers will visit each table to keep tea cups filled from steaming teapots of nicely steeped loose-leaf tea.  Brenda Hedrick, owner of Anna Marie's Teas, strives to create a welcoming, friendly, and satisfying experience for tea party attendees.
If you're in search of an opportunity to be greeted by some lovely people, to have a relaxed visit with friends or family, to be served delicious tea and tea treats, to spend some time in a grand and gorgeous 1913 historic home . . . come to tea at Anna's!
Two wonderful books were used in preparing this blog entry:
Tea & Etiquette, by D. Johnson & B. Richardson; and
A Social History of Tea, by J. Pettigrew & B. Richardson